why lunges?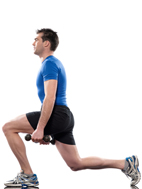 Lunges effectively work your glutes and quadriceps and also engage your hamstrings. With proper technique, lunges are one of the most productive lower-body exercises you can do.
Lunges also improve the flexibility of your hip flexors; muscles which are often neglected, particularly if you lead a predominantly sedentary lifestyle.
Finally, by engaging your abdominal muscles and keeping your body upright, lunges can vastly improve core strength.
Good luck!
Proudly Hosted by Host Gator | Original Template Design by Andreas Viklund
Copyright © 2016 Steve Speirs